Canadian Military Pattern Gun Tractor. Chev 6 cal engine, 20mm armour, 5 seats, gun jack on rear. designed to carry the 17 pdr at speed over hills and across country. 4wd. Starting in 1930. Later replaced by the CT15 below.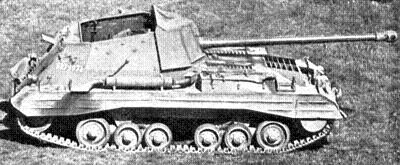 Archer anti-tank platform Mounting first the 17 pdr then the 25. It was designed to be driven with the gun facing the rear. There are pintles for machine guns front and rear. First starting in 1942, some 3000 were produced and deployed with Canadian Forces. It uses the Canadian Valliant hull and engine.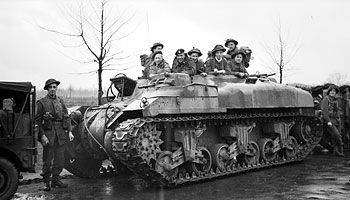 Based on the Canadian RAM tank platform though made entirely by Ford of Canada in their Windsor plant. It was meant to replace the Canadian Universal Carriers, though it never did. Only 100 saw service
The Sexton: 17 and 25 pdr variations. Again, RAM chasis. This and the Priest, a lighter variation, we very successful mobile artillery, used both as indirect fire artillery and direct fire close support, including anti-tank. 60 of these landed with Canadian Troops at D-day. 80 at Anzio. Later in the war they were refit with newer engines and the 105mm long rifled gun.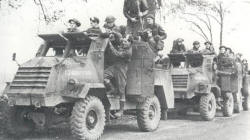 The venerable Canadian Truck 15. 20mm armour all over, open canvas top with 4 gun pintels and one turret ring for a 30 cal machine gun.
They could be equipped with the artillery jack and ammo racks. They began to see service in 1943 and by DDay there were 3000 on the beach with Canadian Troops. Anyone who lives in Holland has probably seen these trucks or the their variants because at the end of the war we left them ALL behind. Not a single one every saw service in Canada. And at the end of the war Canada adopted the Swedish Bandvagon as it's standard transport for infantry and artillery. You still see the some Bandvagon's used in training cadres in Canada. There used to be about 300 of them at the base in Calgary. Last time I visited was in 2002.
IF BGE were to add one vehicle to the game I would say add the Archer. It was an incredible tank killer, and really fast. It was used very successfully for long range ambush and shoot and scoot support.
I would really like to see BGE add Canadian forces, not only because I'm Canadian, but because Canada contributed almost as much equipment and manpower to the European Theatre as the Americans, and far far more than the british or any other allied country. By 1944 1.2 milliion Canadian soldiers were on the ground in Europe. And that does not include the more than 250,000 Canadians serving with the US forces in Europe. Canadian Equipment differed significantly from British and American equipment having an entirely different design philosophy from either nation. Not the least of which is a doctrine of anti-tank rather than tank equipped. Canadian soldiers were issued AT round for their 303 rifles starting in 1932. Every single soldier was issued a few rounds of AT rifle ammo, the famous tungsten penetrator. Anyway, it would be nice. But I don't see it happening.